Date Night at AMALFI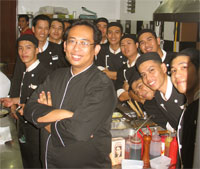 Chef Miner with his kitchen staff at
Amalfi.
Every aspiring Romeo has to start somewhere and what better day to start the wooing and the romancing then on Valentine's Day. And so, if you don't want to be called an amateur in the realm of romance and love, then there's probably nowhere else you'd rather be on February 14 (as well as on February 13 and 15) than at AMALFI CUCINA ITALIANA.
Miner del Mundo, the infallible chef of AMALFI, the city's newest and hottest Italian restaurant, has put together an unforgettable Valentine menu for you. The dinner will start out with Italian Bruschetta and U.S. Angus Carpaccio de Manzo. Then it will be followed by Zuppa de Asparagi (Asparagus soup), Insalata di Scampi e Salmone and Mescluno e Frutta del Giornio (shrimp, salmon, strawberry, and grape salad). If that won't impress your date, then maybe the entrees will. Chef Miner will be preparing three sets of delectable dishes for you to choose from.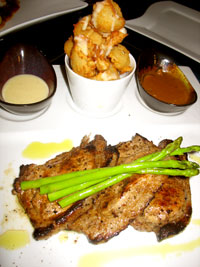 Rosemarino di Maiale, Calamari Fritti,
Salsa di Tartare.
There's the luxuriously juicy Manzo alla Griglia (grilled tenderloin steak) topped with Foie Gras for those with sophisticated palates; the tasty Stuffato al Frutta di Mare (stewed seafood) and Scampi ala Griglia (grilled prawns) with Insalata del Giorno (salad of the day); and the deliciously comforting Rosemarino di Maiale (Rosemary pork chops) with Calamari Fritti (fried squid) and Salsa di Tartare (tartar sauce). After your chosen entrata, a plate of perfectly cooked Pasta al Tutti di Mare (shrimp, squid, and salmon pasta) will be served. Got room for dessert? You better, what with the sinfully rich Cioccolato Salami e Panna Cotta to cap your memorable date.
Who wouldn't be moved and wooed by such a feast? And will our Ilonggo Romeos win their Juliets? Well, if they'll wine and dine at AMALFI, then the question answers itself. It's a date -- see you at AMALFI on February 13, 14, and 15, 2009!
AMALFI CUCINA ITALIANA is located at The Avenue Complex, Glicerio Pison Ave., Mandurriao, Iloilo City.
Photos by Marichel Teves-Magalona