PURR
Cozy dining at Mojave this Valentine's Day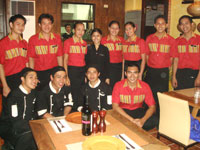 The Mojave staff.
Mojave Grill and Steak House, located at The Avenue offers excellent choices of set menus this Valentine's Day.
Expect to be greeted with a friendly staff and be served with popcorn while waiting for your orders at Mojave. There are three varied main courses to choose from to go along with appetizer, soup and dessert specially made for this momentous occasion for you and your loved ones.
Start with the appetizer and soup platter. Marvel at the creamy and rich texture of Cheddar and Vegetable Chowder. Enjoy the juicy slices of Shublig and Hungarian sausages, sweet corn kernel and lemon dressing in the Grilled Sausage Salad. Then, enjoy the Fried Cheese Platter and let the mozzarella cheese melt in your mouth.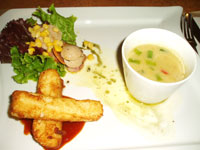 Appetizer and soup platter.
When you're satisfied, move on to the salad, Smoked Salmon and Mesclun Salad with a melange of fruits on creamy citrus dressing. I suggest that you eat the salmon and lettuce together for that perfect combination of fish and veggie.
There are three choices for the main course. Tyson Gigantic Chicken Drummers, Potato Frittes and Vegetables in Season is a perfect choice for families because kids love chicken, too. They cook the chicken really crispy on the outside and juicy inside. One chicken leg and thigh can be shared by two or three persons. It's really huge, believe me. Miner del Mundo, food consultant, said that the chicken was imported from the United States. A second choice is Casserole of Beef Sirloin with Mozzarella Gratinee, Crispy Dory Fillet and Creamed Cauliflower and Bacon. The third choice is Duet of Certified Angus Rib Eye, Trio of Peppercorn and Foie Gras. All these options are meant for sharing.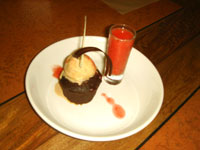 Dessert.
Dessert will come with Molten Chocolate Cake, Lemon-Meringue Pie and Fresh Fruits Shooters. Let the chocolate cake melt in your mouth along with the creamy ice cream they place on top.
Let these treats be yours this Valentine's Day dinner.
(The restaurant was named after the Mojave Dessert located in the southeastern part of California. This is the reason why most of the food at Mojave Grill and Steak House are of southeastern influence.)
Photos by Marichel Teves-Magalona