Twilight
'Twas a b-day bash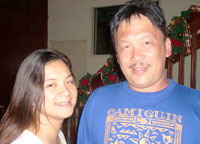 Celebrator Pinky Javellana with brother
Doc Tinton Javellana.
It was a simple birthday celebration right on the feast of Señor Sto. Niño coinciding with the nth birthday celebration of Leila Ruth "Pinky" Javellana as she invited friends and closer family acquaintances to their Bacolod home, to have a taste of her own menu of special Arroz Valencia ala tosta, the long life noodle, choco cake, of course, and those lumpia shanghai, leche flan cum egg-white toppings as finale.
I joined my sister's birthday bash along with Leda Barbers, Robert Earl Barbers, and brod Doc Tinton Javellana who ferried in from Boracay Regency Resort, and Ann Araneta, and more.
The party was simple yet it was a gathering of the old and young folks who are close to the heart of the celebrator.