Unity in diversity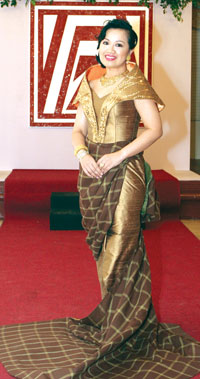 Marissa Gorrriceta in Nono Palmos.
The Zonta Club International District 17 Area 3 presented a mini fashion show when they hosted a welcome dinner reception during its area meeting held at the luxurious Sarabia Manor Hotel and Convention Center. Modeled by the Zonta members from the different regions of the country, the show was aptly called "Unity In Diversity". This showcased intricate Filipiniana inspired gowns and regional costumes from the private collection of the models themselves.
The Zonta Club of Iloilo II, aside from being a leading civic organization for the empowerment of women and children, is a stauch supporter of Philippine made products and services. After all, love of country is definitely in the hearts of all Zontians and what better way to express it than to give tribute to our fashion and cultural heritage.
The Zonta Club District 17 Area 3 is headed by Area Director Sandra Sarabia Gomez and President Tess Dulalia.