FCC-NSTP feeding program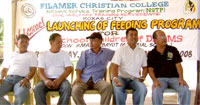 N Gonzaga, R Baes, P Bartosillo, E
Martinez and NSTP-CWTS Adam
Jesus Bering.
Roxas City – Filamer Christian College National Service Training Program-Civic Welfare Training Service (FCC NSTP-CWTS) launched its Feeding Program as part of the school's Community Outreach/Extension Service to the community.
The program aims to provide and feed nutritious food to below average elementary school children of Don Amando Bayot Memorial School (DABMS) located in Barangay Cagay, this city.
The feeding program was launched last December 13, 2008 initiated by 7-groups of NSTP-CWTS composed of about 350 students who prepared nutritious food (chicken soup with vegetables and macaroni soup) for 75-below average elementary school children.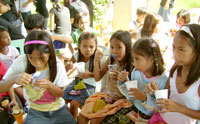 Elementary school children having a
nutritious meal.
A short program was held prior the feeding activity with DABMS Principal, Egleserio Martinez, expressing his gratitude for the effort done by the NSTP students of FCC for selecting their school as the pilot area for this service program.
The activity was likewise supported by the local officials of the barangay through their presence during the launching. The feeding program will be held every month starting January until March this year.