Sunday in Dao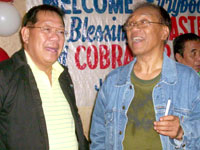 Great buddies Bobby and Toto Cesar.
It was a breezy but fine Sunday afternoon when Cesar "Toto" Cobrador hosted a birthday merienda cena for his good friend, Gen. Roberto "Bobby" Lastimoso, in his place in Dao, Capiz. Lastimoso, a former PNP Chief and now DOTC ASSEC and MRT general manager, was celebrating his 65th birthday.
Both Capicenos, Bobby hails from Mambusao and Toto from Dao, the friendship of the two buddies is bonded for decades now with mutual trust, respect, and concern for each other. The occasion was also the blessing of their new rest house where the celebration was held.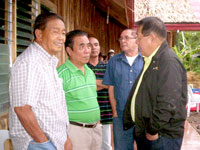 Joe Parojinog, Essex Quintia, Nap
Andaya with Gen Lastimoso.
With food a-bounty catered by Red Sun Restaurant of Roxas City, both friends were joined by mutual friends, relatives, and hundreds of well-wishers. Seen that afternoon were incumbent Board Members Rommel Lastimoso and Fritz Cruz-am, Cuartero Vice Mayor Lito Hijosa, Mambusao SB member Nap Andaya, former Dao Vice Mayor Paterno Cobrador, former Sapian Vice Mayor Jose Parojinog, former Board Members Ronald Exmundo and Aldwin Cruz-am, former Tapaz ABC President James Glumalid, former Cuartero ABC President Digol Togoto, Lilia Grino, Manolo Ortiz, Essex Quintia, Fernando Aleligay, William Uy, Atty. Ferdinand Jomilla, several former ex-village chiefs of Dao, and the local media.
It was an exceptional afternoon with speculations a-brewing that the partnership of the two friends might extend to the local political arena. Notwithstanding, it was an afternoon of great celebration coupled with cheerfulness and delight!
Photos By Joel E. Capundan