PURR
On nightmares and sharing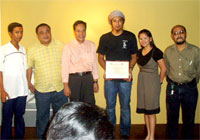 Elemar Jamolo, Jigger Latoza,
Mr Bermudo, Oskie Nava, Councilor Jam
Baronda and Hector Alejano.
Two award-winning films by Ilonggo filmmakers Oscar Reuben "Oskie" Nava and Ray Gibraltar were presented recently by the Commission on Human Rights Region 6 in line with the 60th anniversary of the Declaration on Human Rights. The said films were "Hupa" by Nava and "Tiangge" by Gibraltar and they were presented before the media, students and city officials at Crave Art, mezzanine of Crave Stakes, Smallville Complex, Iloilo City.
"Hupa" shows the struggles of Ilonggos during the flood caused by typhoon Frank. It was Purr's first long look of how the flood has adversely affected everybody. Nava was able to film even the most awful scenes involving people being dug out of muds and children dying. According to Nava, while he was filming the footages, he was doing it as an artist, a documentator. Soon, he began to work with city officials as they engage in disaster control and rescue. This material won him the grand prize in the 2008 Monrise Film Festival in the environment category. It was also declared Best Regional Entry for a documentary in the 20th Gawad CCP para sa Alternatibong Pelikula at Video.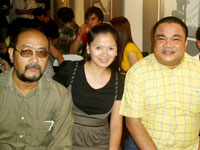 Hector Alejano, Councilor Jam Baronda,
Jigger Latoza and Elemar Jamolo.
Gibraltar's "Tiangge" ran for 10 minutes. Although it was short (Nava's was 30 minutes), it showed that although children are considered as "greedy", they were able to redeem themselves by doing what adults failed to do – to share. The film was Best Regional Entry for short feature in the 20th Gawad CCP para sa Alternatibong Pelikula at Video.
Gibraltar was not present during the film showing, but nevertheless, his film was enough to make an impact on everybody.
After the film showing, several commentaries were made by selected guests. Such was followed by cocktails.
By the way, the anniversary theme of the Declaration of Human Rights was "Dignity and justice for all."
* * *
QUOTES: Real courage is knowing what faces you and knowing how to face it. - Timothy Dalton
You can speak well if your tongue can deliver the message of your heart. - John Ford