APO holds 'Operation Tuli'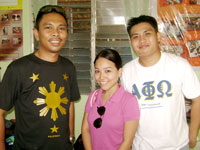 Dr Roland Fortuna, TNT's Ajenah Sualog
and Dr Enrique Hipolito III.
The Alpha Phi Omega International Collegiate Service Fraternity and Sorority, Zeta Chi Chapter of West Visayas State University, once again upheld their principle of service as they conducted "Operation Tuli" in Barangay Sto Niño Norte Arevalo Health Center last Dec. 21, 2008.
The said event was one of their many projects in line with their 83rd International Founding Anniversary.
Dr. Roland Fortuna and Dr. Enrique Cariño Hipolito III coming from Zeta Chi Chapter were among the brothers who headed the free circumcision. Dedicated active alumni and resident members of WVSU also participated in the first ever surgical mission performed by Alpha Phi Omega in Iloilo City.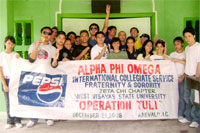 Alpha Phi Omega Zeta Chi Chapter of
West Visayas State University with
barangay officials.
Members in their lifetime commitment to APO, live by the principles of leadership, friendship, and service. Forced kindness deserves no thanks and willingness to serve does not wait until it is asked for. These are the principles of the organization.