A cozy December affair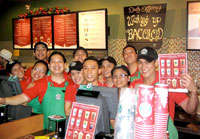 Starbucks crew on opening night.
And there it went. As fast as it came, Christmas is over. In fact, it zoomed by this year, maybe because December came full-packed with many activities that came together with my Christmas shopping and other preparations for my yearly celebration.
My first present came early, specifically on December 8, 2008. Starbucks finally opened its doors in this city's "strip", beside the Ereñeta home along Lacson Street. Guests were treated to a free cup of coffee served in Starbucks' red Christmas cup. Mine was a cappuccino, which was perfect with the cool December breeze, paired with delicious cakes (the white chocolate cake was superb!), cookies, and sandwiches that was served endlessly the entire evening. To top it all, I went home with a bag of coffee beans, which smelled as fresh as the day it was roasted.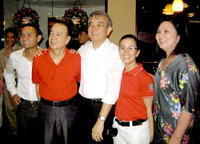 Starbucks VIPS Noey Lopez, Jun Lopez,
Butch Lopez, Angela Cole, Menchu
Lopez.
Congratulations to Rustan Coffee, Licensee of Starbucks Coffee International, and the VIPS who graced the opening: Mr. Noey Lopez, Chief Operating Officer, Mr. Jun Lopez, President, Angela Cole, Operations Director, and Menchu Lopez, Director of Store Development. The evening had music and there was none stop chatter of friends who were enjoying coffee and the cool weather under the famous green umbrellas perched on the patio.
New Year came early too, as SM Bacolod sent invitations for their fireworks show last December 13. It was one of a series of shows that would go on the entire month. No rain could dampen the show, because they still came out with a great display. Aside from the display in the sky, there was an interesting display of dressed-up cars in the mall's parking lot.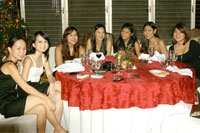 Aisa and Carmi Locsin, Michelle Solinap,
Agnes Cuadra, Dani Tongoy, Ina Solinap
and Alex Gamboa.
Then there was the "Glitz and Glamour" Christmas party of the Sugar Regulatory Administration on December 19, 2008 at the Social Hall in the SRA compound. The affair was well attended by SRA employees both from the Bacolod and La Granja offices. Yes, everyone came in their best glitzy and glamorous attire, and they were ready to dance to the live music of the GMT Band. Babes Sola and Rosario Mutos, who made the entire show entertaining, hosted fun games where winners came home with cash prizes. Nobody left empty handed as door prizes were given away the entire night. Enjoying the affair with Administrator Lito Coscolluela were his lovely wife Betsy, Confed's Cocoy Locsin, Raymond Montinola, Rey Bantug, and Herman Santos.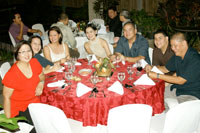 Just part of the Gamboa family.
On Christmas Eve, friends and family came to our house for the annual Christmas Eve dinner.; Sugarland Hotel, under the helm of Maricris Locsin, made sure our house was "dressed" for the occasion, buffet table included. Getting most of the attention that evening was the Roast Chicken L' Orange, Thai Braised Catfish with Coconut Sauce and Lemongrass, Smoked Bangus Roulade with Onion Dip, Lasagna, Caesar's Salad, and so much more! We always celebrate the season with relatives in this small and cozy affair, as we give thanks for the gift of family. Some twenty years ago, my mother, Celine, started this tradition, and even if she isn't with us anymore, my dad, Dodol Gamboa, has continued on with the annual Christmas Eve dinner. Christmas is for children and this year, we welcome three new babies in our family: Mia Gamboa, Miguel Santino Sason, and Sophie Abaya. Yes, we are indeed thankful for the gift of family.
On December 27, I headed south to Cauayan, about three hours away from Bacolod. There, perched on a cliff overlooking the sea, was William and Chole Chua's lovely and relaxing vacation house. Together with Johnny and Maggie Jalandoni, Gaita and Li Feliciano, we spent three days talking, swimming, eating, kite flying, and simply walking along the beach. And then came more eating… I have to mention eating twice, because that was the bulk of the vacation. I don't know what Chole, the Queen of Quan Delicacies, has stored in her kitchen, but they were coming out of her swing doors non-stop, and they all tasted good!
The beach vacation energized me so that I was able to continue on with my holiday activities for the New Year. Spent with family again, this time we headed off to Ayala North Point in Talisay, in Bernie and Cel Sason's home. Rain dampened the night earlier, but the fireworks started as early as 11PM. When midnight came, the Talisay sky was ablaze with fireworks, which the Bacolod sky matched with more fireworks. I treasure the text messages sent by family and friends who wish for good things for my family and me. Those messages will keep me inspired throughout the year!
I told you I was busy this holiday season. Too busy, that I missed the annual Christmas party of The News Today in Iloilo. I did prepare my shimmering metallic outfit for the occasion (as stated in the invitation), but unfortunately, couldn't make it to the party.
And there it went…. As fast as it came, Christmas is over. Or so, you think. Christmas may have come and gone, but it surely lives on in my heart. With Jesus' loving presence amidst my family, my friends, and my life, everyday is Christmas!
So, here's wishing you a Merry Christmas…again!