PURR
Sarabia Manor Hotel gives hope to KKK children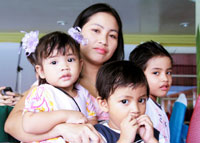 Buizon family.
Sarabia Manor Hotel and Convention Center, hosted a memorable Christmas party for children with cancer under the care of Mga Kaibigan ng Mga Kabataang May Kanser (KKK) last Dec. 13, 2008. It was also a launching of the hotel's Tree of Hope project.
The hotel was represented by Robert Ferrer, general manager and Carmen Sevilla, marketing executive who hobnobbed with the children, their parents, donors and members of KKK.
"Children always have a special part in the hotel's existence," said Sevilla before rendering a song for the kids.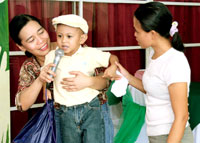 RK Diopeta and his mom with KKK
president Dr Cora Martinez.
The hotel treated the kids and those present with lunch and the children received some gift packs as well. KKK also presented some gift packs containing items that were collected from those who wanted to give the young ones some Christmas cheer. A visit from the Santos family took place and they, too presented gifts to the children. Another surprise came from designers Bo Parcon, Jasmine Castelo, Jaki Penalosa, Angelette Ragus and Jor-el Espina who brought in some toys and clothes from them and fellow designers. The said designers were some of those who volunteered during KKK's Fashionata event last year, a fund-raising for the children's chemotherapy treatments.
To all those who have in one way or another, supported KKK in its efforts, thank you so much. Your involvement means a lot to these children and their families.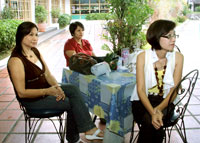 KKK members Dial Jardeleza, Kathy
Villalon and Dr Lita Paclibar.
KKK's existence started with friends talking over coffee. Dr. Socorro Martinez and Sol Fernandez were talking vaguely on how they both dreamed of doing a project for cancer patients. Sol is a cancer survivor while Dr. Martinez always had a soft spot for cancer patients, having her mother, grandmother and uncle die of different types of cancer. In March 2007, Sol renewed his friendship with Mirella Clarete, owner of House of Dance in Manila and they talked about having a project called Cross Over. The project generated funds that was more than expected. The success of the project inspired them to make an organization. After realizing the importance of such cause, many enlisted to be volunteers. At present, KKK relies on the generosity and volunteerism of its increasing membership and their friends for its development and success in its endeavors.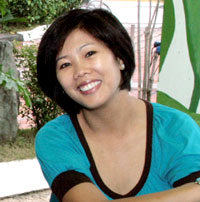 KKK member Elena Torre.
KKK's mission is to ease the financial burdens that many indigent Filipino families face while pursuing quality health care for a child with cancer. The KKK raises its own funds in order to grant financial assistance by supporting the children's chemotherapy and other medical needs.
On how to help these children, visit our website at www.iloilokanserkids.com or e-mail to kuramar91@hotmail.com.
KKK is registered with the Securities and Exchange Commission.
* * *
One of our recipients, Regine Faith Bonillo was able to get some Christmas cheer before passing away last Dec. 22, 2008. We are requesting for prayers for our little angel as well as for her family.
* * *
To end this column, here are some quotations on children:
"Life, love, and laughter - what priceless gifts to give our children." - Phyllis Dryden
"In the final analysis it is not what you do for your children but what you have taught them to do for themselves that will make them successful human beings." - Ann Landers
"Your children will see what you're all about by what you live rather than what you say." - Wayne Dyer
"Children are a wonderful gift . . . They have an extraordinary capacity to see into the heart of things and to expose sham and humbug for what they are." - Desmond Tutu
"A torn jacket is soon mended; but hard words bruise the heart of a child." - Henry Wadsworth Longfellow.