Prepare the Sirens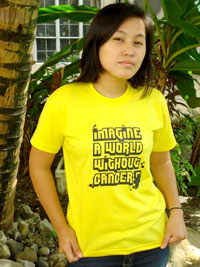 Imagine a World Without Cancer.
It all started in 2007, through a Christmas party for the kids of Barangay Calajunan, Mandurriao.
Diana Galon and Joyce Jardeleza, students of the University of the Philippines in the Visayas and the Ateneo de Manila University, respectively, through a Yahoo Messenger conversation, decided to create an organization after that event. "We thought of taking our capabilities further. We all live once, therefore we wanted to make a mark in our society. We wanted to create change. Creating change involves envisioning and actualizing societal contributions that would have long-term ramifications," said Joyce.
Thus the birth of Prepare the Sirens Productions. After few events organized, the members realized that as a youth group they should focus more on organizing events that have the perfect combination of meaningful purpose, long-term objectives, and high-impact results without profit as the main goal.
One of their beneficiaries is the Mga Kaibigan ng Mga Kabataang May Kanser (KKK). "We chose KKK because my mother is a part of this group (Dial Jardeleza), the fight against cancer can't be done alone, we wanted to create cancer awareness especially to the younger, energetic generation that has the capability and means to be visionaries of change," Joyce added.
Thus, Prepare the Sirens Productions created the "Imagine a World Without Cancer" T-shirt project and were able to sell T-shirts. The proceeds were donated to KKK, which in turn, will finance the chemotherapy of six children under its care. The T-shirts are still available online.
Apart from their involvement in KKK, Prepare the Sirens Productions plan to form collaborations with different university council representatives involving youth participating and empowerment. This can be through school gigs, outreach programs and civic actions.
Prepare the Sirens Production's members are Joyce, Diana, Sol Andrea Cabangal, Marianne Jarina, Jan Michael Jamora, Marco Gonzalez and Carlo Gonzalez.
For more information about the productions and its projects, e-mail prepthesirens@gmail.com.