Like the enterprising boxing 'promoters' in Las Vegas, Nevada, USA aiming to jack up "Dream Match" tickets of Oscar De La Hoya and Manny Pacquiao, frenzy for some extra quick cash also hit Iloilo.
With only two regular sessions left for the Sangguniang Panlungsod of Iloilo in 2008, rumors on the alleged reorganization of the different chairmanships and installation of Councilor Eldrid Antiquiera as new majority floor leader broke out.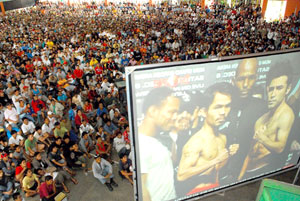 PIO PHOTO RELEASE
Silence means yes?
Hopefully not, or so it is for the Armed Forces of the Philippines (AFP) hierarchy as it called on supposed "people's organizations" and militant groups to 'speak up.' The AFP's call is relative to recent deadly offensives launched in Western Visayas region by communist terrorists New People's Army (NPA).