Justice Secretary Raul Gonzalez Sr. will no longer head a task force that will manage the P8-billion rehabilitation fund for areas ravaged by typhoon "Frank" after his proposed designation was met by protest.
The members of the Bids and Awards Committee (BAC) of the city government failed to show the five AR-rifles to the members of the city council in an executive session.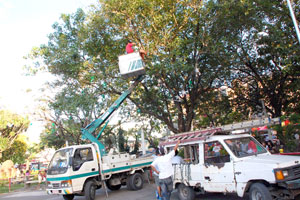 JOHN JAVIER
A former governor of Antique province was convicted of graft by the Sandiganbayan in connection with the anomalous purchase of P5.67 million worth of school desks and armchairs in 1997.