Electric distribution utility, Panay Electric Company (Peco) will cut down its charges starting next month to reflect the decreasing trend in the global oil price.
BACOLOD CITY -- Bureau of Internal Revenue (BIR) Regional Director Rodita Galanto branded the rally conducted by Negros Alliance Against Poverty Advance VAT (NAPAVAT) Wednesday morning as a "paid rally".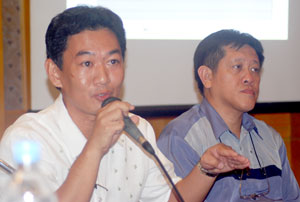 A.CHRIS FERNANDEZ
The Task Force Bangon Panay yesterday urged Congress to fast-tract the passage of the rehabilitation fund for areas ravaged by typhoon Frank.