Pitoy Moreno: A National Treasure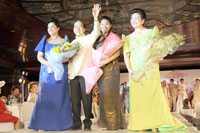 Susan Florete, Pitoy Moreno, Pia
Uygongco and Cynthia Gulmatico.
Internationally renowned Filipino fashion designer Jose "Pitoy" Moreno unveiled recently his latest collection of exquisite Philippine Costumes, tastefully made formal evening wear and beautifully crafted ternos during a gala dinner show at the elegant Grand Ballroom of Amigo Terrace Hotel in Iloilo City which was graced by the city's silk stocking crowd and avid fashion followers.
Considered by many as the greatest master of his craft, Mr. Moreno holds the title as the Fashion Czar of Asia and has presented his magnificent collections to almost all the major cities of the world like New York, Paris, London, Madrid, Athens, Teheran, Stockholm, Moscow and many more which was met with praises by critics and patrons.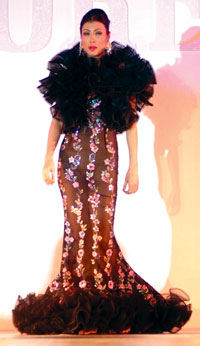 Mr. Moreno has dressed up many of the great ladies of the world -Nancy Reagan, Pat Nixon, Betty Ford, Cristina Ford, Margot Fonteyn, Deeda Blair to Isabel Preysler and royalties like Queen Sirikit of Thailand, Queen Margarreta of Bulgaria, Queen Sophia of Spain, Princess Margaret of Britain, and Princess Suga of Japan.
During his second gala show in the Philippines outside of Manila, Mr. Pitoy Moreno showed to the Ilonggos the beauty of our fashion, the history of our costumes and most of all the pride of being Filipino.
Mr. Moreno is indeed a national treasure. Cheers!