The controversy surrounding the selection of a new president of the Central Philippine University (CPU) was thrown wide open yesterday after former school chairman Perfecto "Jun" Yasay Jr. sued top officials of the university.
Search operations for the missing toxic cargo of a vessel that sank off Antique last June has been called off by the Coast Guard after more than a month of operations.
But divers have failed to locate around 80 sealed drums containing at least 16 metric tons of the toxic substance toluene di-isocyanate (TDI).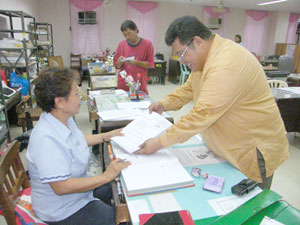 PINOY GONZALES/ PNS
Just like Al Capone, the Philippine Drug Enforcement Agency (PDEA) is hoping to pin down Iloilo City's publicly known drug lord for anti-money laundering violations and not for possession of methampetamine hydrochloride or shabu.
Governor Niel Tupas Sr. is now seeking for legislative approval on a working budget for next year's operations of the Iloilo Provincial Government.