Jose Pitoy Moreno: The Fashon Czar Of Asia
Watch his fashion show on October 25, 8 pm at the Amigo Terrace Hotel's Grand Ballroom. This event is for the benefit of the St. Dominican Sisters Orphanage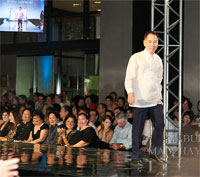 At the cultural fashion show at the Tokyo
American Club.
It is a rank that speaks of his talent as an artist, his achievement as a designer and his stature in Philippine fashion. Internationally, he is the best-known Filipino designer.
His career reads like a significant chapter in the history of local fashion. He is one of the earliest exponents of the Maria Clara, inspired by the paintings of Damian Domingo, Fabian dela Rosa, Juan Luna and Felix Resurreccion Hidalgo whose works he studied at the University of the Philippines. His costumes for the world-famous Bayanihan Philippine Dance Company as a young designer oriented him in the various Filipino Customs and traditions, an immersion which would influence his future work.
He was president of the very first association of Manila designers ever organized, the Philippine Couture Association. He is credited as the founder of the Karilagan International, a fashion-cultural organization which promoted Filipino fashion desing here and abroad. His local shows were marvels in their time and his participation in the fashion exhibition at the Seattle World's Fair and the New York World's Fair is still the record to reckon with.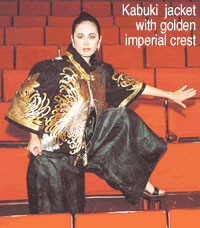 Kabuki.
His collections have circled the globe: Paris, London, Rome, Madrid, Copenhagen, Athens, Barcelona, Sweden, Viennna, Moscow, New York, Chicago, Washington D.C., San Francisco, Los Angeles, Teheran, Morocco, Honolulu, Tokyo, Hongkong, Bangkok, Kuala Lumpur, Singapore, China, and many more. Wherever his collections were shown, it was met with praise with critics and patrons alike.
And always, they made the fashion pages: Vogue, Harper's Bazar, Holiday, Le Figaro, headlined "The Fashion Czar of Asia Comes to Paris to be Crowned" and Women's Wear Daily, to name a few. On these fashion pages, Pitoy itroduced the words jusi, pina and lepanto to world fashion. His unsurpassed beadwork, embroidery and handpainting has adorned Nancy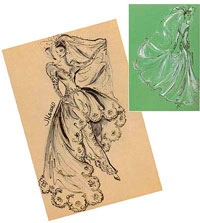 A designer's artistry begins with studies
and sketches of designs detailing the
silhouette, line, cut, and fall of the bridal
gown. Fabric is chosen for texture and
degreee of ornamentation required to
bring the creation to life. A finished dress
completes the full circle of a designer's
creative process. Visual concepts of the
wedding gowns for Crispy Santamaria
Laurel (above left) and Marites
Lagdameo Lopez (above right).
Reagan, Pat Nixon, Bettty Ford, Queen Sirikit of Thailand, Queen Margarretta of Bulgaria, Queen Sophia of Greece, Pricess Margaret of Britain, Pricess Suga of Japan, the Marquesa de Villaverde, Cristina Ford, Margot Fonteyn and Deeda Blair.
As a matter of course, the First Ladies of the Philippines have always been dressed by Pitoy, in his trademark ternos.