Literally and figuratively speaking too for the region's biggest, and thus far, only electric cooperative consortium. With at least P40 billion in expected contract or contracts to be awarded "anytime soon," The News Today (TNT) got the confirmation as bidding process in the past weeks reportedly progressed "smoothly."
Traffic is expected in the city's main streets this afternoon, particularly near the Iloilo Freedom Grandstand, as a parade of festivals will be held in connection with the 2008 Association of the Tourism Officers of the Philippine (ATOP) national convention being hosted by the city.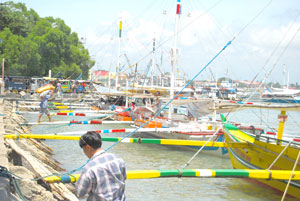 A. Chris Fernandez
An Iloilo-based retired scientist and environmentalist has been featured by Time magazine for her work in helping protect the environment.
Jurgenne Primavera, senior scientist at the Southeast Asian Fisheries and Development Center (SEAFDEC) until she retired two years ago, is among the Time's "Heroes of the Environment" in its October 6 special issue
She was among the 30 individuals and teams, including activists, scientists, celebrities, innovators and financiers all over the world who were honored for their contribution to the protection of the environment.