Book on Kinaray-a now out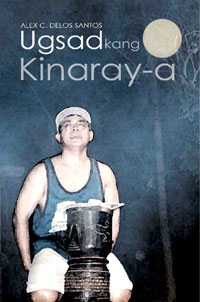 Karay-a author Alex C. Delos Santos comes out with his fourth book, a collection of essays in Kinaray-a titled UGSAD KANG KINARAY-A.
UGSAD KANG KINARAY-A is the second book written entirely in Kinaray-a by Delos Santos, after his controversial collection of gay short stories AGI, AGI MAY PUTAY SA DAHI published in 2006. UGSAD KANG KINARAY-A contains essays on the history of Kinaray-a literature, a guide to Kinaray-a orthography, a review of the ribald tradition in Karay-a poetry, and a discourse on language and othering. The main essay is the Kinaray-a version of his first book THE RISE OF KINARAY-A published in 2003.
According to Delos Santos, UGSAD KANG KINARAY-A is not only merely a translation of his first book, but more significantly a translation of a mind entangled in the language of the colonial master. By writing the book entirely in his native language Kinaray-a, he dramatizes his genuine emancipation from colonialism. He insists that true liberation comes not only by using Kinaray-a to write poems, songs, and stories, but also using one's mother tongue in the search for knowledge. The book is lauded for its pioneering work in Kinaray-a, and for advancing the intellectualization of Kinaray-a as a language for academic discourse.
Delos Santos also authored MGA KANTA NI DATU LUBAY, a tri-lingual collection of his poetry in 2003, and edited HUWARAN: ANIAD BEST PRACTICES and MAARAM: STUDIES ON ANTIQUE. As a cultural educator, he has been chairperson of Paranubliun Antique, and is currently the Executive Director of Binirayan Foundation, Inc., organizer of Antique's Binirayan Festival and the Karay-a Arts Festival. He finished his master's degree in Education from the University of the Philippines-Visayas, and has attended all the major writing fellowships in the country, including the Iligan, Dumaguete and UP national writing workshops. He has also read his papers on cultural and literary studies in national and international conferences, and he represents West Visayas in the National Committee in Cultural Education at the National Commission for Culture and the Arts (NCCA). He is also a critic, theater artist, and performer.
Published by Hiraya Media Arts, UGSAD KANG KINARAY-A will be formally launched at the opening of the 2nd Karay-a Arts Festival at the EBJ Freedom Park on October 24, and will be available for orders online at the US-based www.bookoto.com. For orders, text 09275830174 or visit datulubay.blogspot.com.