"I know Governor (Niel) Tupas. I know his brand of politics. I know that he is the classic professional politician. I know that he has no other visible means of livelihood aside from politics.
Guimaras Representative JC Rahman Nava is planning to sponsor a bill before the House of Representatives seeking for the exclusion of the island-province of Guimaras from the country's list of mining sites.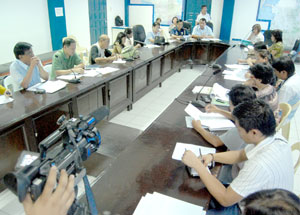 A.CHRIS FERNANDEZ
In a final act of love, Lt. Col. Angel Benitez sent a text message to his wife in Iloilo City on Sunday, just hours before he was killed by Moro rebels in Lanao. "Ma, I'm sorry for the all the pains I brought you," he said to Maria Elena or "Cookie."