'Slain officer a perfectionist who wanted to excel in everything that he does'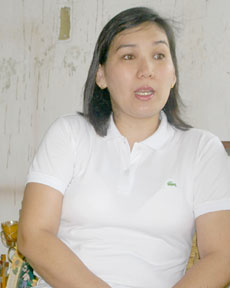 Benitez wife
In a final act of love, Lt. Col. Angel Benitez sent a text message to his wife in Iloilo City on Sunday, just hours before he was killed by Moro rebels in Lanao.
"Ma, I'm sorry for the all the pains I brought you," he said to Maria Elena or "Cookie."
She did not understand the message then because her husband did not elaborate. But on Monday, she received a phone call with the news that her husband was among those killed in the attacks launched by Moro Islamic Liberation Front (MILF) rebels.
The family, already used to the long absences of Benitez because of his various assignments, is still coming to terms with the fact that he will never come home again.
Cookie, 37, said she finds it difficult to answer the questions of their four children, aged 9 to 15, especially on how their father died.
Her husband's death was among the things that she prepared herself since they were married 16 years ago. But she is still in a denial that her worst fear had come true.
"It is so untimely. He was with us just last week," a weeping Cookie said yesterday at the family residence in Barangay Tabuc Suba in Jaro District here.
Benitez, 40, visited his family for around two weeks and left last week for his new assignment in Lanao.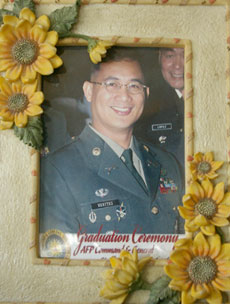 Lt. Col.Benitez.
Reserved and silent, the respected combat and intelligence officer was unusually talkative during a party at their house last August 8.
"He was so lively and he kept on talking,"said Cookie.
Just before he left, he made sure that the fence of their house and a concrete protection from flooding were completed. Their house was among those damaged by the flooding last June 21 brought by typhoon "Frank."
"Pagnawala ako, safe kayo ( You will be safe if I'm gone)," he told his family when the repairs were done.
'Superwoman'
With her husband's death, Cookie is holding on to the encouraging words of her husband in raising their family while he was mostly away in the field.
"He always told me I was a "superwoman' because I can do anything. Perhaps it was his way of making me strong and making up for his absence," said Cookie.
Cookie said her husband was a "perfect soldier" who was devoted to his career even at the cost of spending more time with his family.
But he also tried hard to become a good father and husband in the limited time he was with them.
He would visit them every two or four months and staying from 10 days to two weeks.
But when he was with them, Benitez would devote his time bringing their kids to school.
In their marriage, Cookie said her husband would often miss important events like their children's First Communion, school affairs and could not even be at her side when she was going on labor because of his work.
But he was happiest when he could be part of this events.
"He was so happy when he was able to attend the oath-taking ceremony of our three children who won in the student council elections," she said.
'Strict' father
Because of his background, Benitez can be strict with their children which prompted his wife to remind him at times that he was at home and not in a military camp.
But since three years ago, he has become more demonstrative in his affections for his children and took more time to be closer with them.
Cookie said he has already started for preparing for the debut party of their eldest child and only daughter despite her being only 15 years old.
Like his military colleagues, Cookie described her husband as a "perfectionist" who wanted to be at top. He continuously urged their children to excel and to be at the top of their classes and not to settle for second.
A native of Naguillan town in La Union and a member of the Philippine Military Academy Class of 1990, Benitez topped various courses and trainings that he underwent. He also has a a masters degree in public administration at the University of Iloilo.
"I was attracted to him when he was still a PMA cadet because he is so smart," said Cookie.
'Perfectionist'
Maj. Dennis Pacis, a classmate at the Philippine Military Academy, said the slain officer was a perfectionist who wanted to excel in everything that he does.
"He was so orderly and neat even in arranging his clothes at the Academy," Pacis said in a telephone interview.
He said officers and troops who were under Benitez were all praises for the officer.
"He went along well with his troops and led them in achieving their work and mission," said Pacis, a member of the staff of the Army's 301stBrigade based in Dingle town in Iloilo.
The seasoned combat officer also loved to cook and was good in preparing Ilocano dishes.
"He was the one who encouraged me to eat vegetables," said Cookie.
A hero
With his sudden loss, the care and upbringing of their children has fallen on Cookie's shoulders.
"I still think that he would just show up at our gate and tell us that he survived," she said.
The remains of the slain officer arrived here yesterday and was met by Cookie, relatives and her husband's fellow soldiers at the Iloilo airport.
Cookie said she is proud of her husband's heroism though he wished that it would not be at the cost of his life.
His heroism is not lost on their three sons who have said that they also want to enroll in the PMA and follow their father's footsteps despite the disapproval of their mother.
Cookie said that when her husband was alive, she always prepared the best parties for him.
"I will give him the best burial. My only regret is that I wasn't able to say my last 'I love you'".