Bravo!!!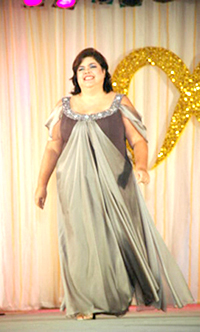 Marichel Magalona
First of a series
A very glamorous evening of serious hair, serious dresses and serious jewelry took place under the resplendent chandeliers of the very elegant Crown Ballroom of Punta Villa Resort, in La Villa de Arevalo a few nights ago.
A fantastic line up of society models from different sectors of Iloilo walked on the catwalk while armed with a great deal of grace, panache and a noble conviction in an effort to uplift the status of and promote awareness on Panay's heritage fabrics and weaving industry.
I am referring to the Ilonggo Producers Association's (IPA's) most staggering and highly successful show "Hinabol", which featured the fashion collections of internationally renowned and very creative Ilonggo fashion designer, Nono Palmos.
A two-part fashion series was presented with real people and professional models showing off the beautiful and intricate gowns and barong suits of Palmos. The materials used were our island's very own hand woven works like hablon, pina, jusi, patadyong and pina bulak.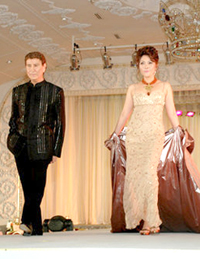 Maurice Arcache and Pangging Rosales
Even the stage's original velvet curtains was not spared. A 300-meters off-white 'kulambo' embellished with gold thread made of the finest raw silk was woven by the women of Miagao for the occasion.
The fund-raising event which was spearheaded by IPA President, Valerie Maravilla, IPA Executive Director Rowena Zulueta, society maven Beverly "Pangging" Rosales, and yours truly, brought in a lot of high profile personalities, the likes of Senator Loren Legarda, who is a staunch advocate of indigenous fabrics and materials: prolific writer and great supporter of our local industries Catherine Jones, wife of the Deputy Chief of Mission Paul Jones of the US Embassy; the governors, mayors and members of LGUs of the different provinces of Panay.
The proceeds of the show will go to the product development, taining and marketing programs of the IPA, whose objective is to promote and consistently develop a high quality image of Panay and Guimaras products here and abroad.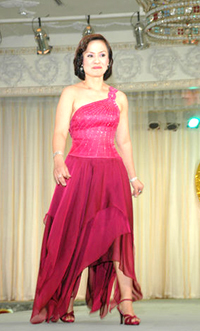 Dr. Aileen Montero
Bravo and my congratulations to all the marvelous society models who gave their precious time to make this fund-raising affair truly one for the record, namely Congressman Raul Gonzales Jr., Congresswoman Janette Garin, Governor Sally Perez, Hon. Rhodora Cadiao, Maurice de Arcache, Valerie Maravilla, Dr. Pacita Gonzales, Pangging Rosales, Rebecca Maravilla, Dr. Wendy Uy, Norma Rosales, Dr. Ellen Abelita, Dr. Regil Palmares, Director Jeanette Oberio, Prima Buckley, Marichel Magalona, Dr. Aileen Montero, Dr. Rosie Libutaque, Gary Libutaque, Dr. Kristin Trenas, Cecil Abanilla-Gison, Dr. Tetchie Layson, Marjorie Florete, Hazel Buaron, Robert Uy, Jane Uy, Grace Valencia, Tess Ngalongalay, Moravi Flores, Dr. Evangeline Johnson, Marirose Cacho, Ms. Linda Hoblitzell, Kingford Tan, Nikko Cid, Breanne Chaplin, Judgee and Sarah Pena.