PURR
Love Heals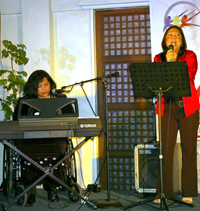 Marisa Montelibano Apuan and Carmen
Blancaflor Sevilla
Songs, dances and the sounds of violin. These permeated the La Isabelita Hall, Jaro Cathedral Compound when Love Heals, a dinner show took place last Feb. 14, 2008.
The benefit show aimed to raise funds for the chemotherapy of seven pediatric cancer patients being sponsored by KKK or Mga Kaibigan ng mga Kabataang May Kanser, a SEC-registered organization composed of doctors, a nurse, mentors, a journalist (moi) and other private individuals.
Talented local artists volunteered their God-given gifts to provide entertainment to guests who came to support the cause. These artists were Marisa Montelibano-Apuan, renowned composer and pianist with her husband Ador, who sang with her and son Brendan who played the guitar with her; Marlon Mallo, a medical representative and fashion model; Dax de los Santos, a medical representative; Dr. Arlan Tabiling, a surgeon; Carmen Blancaflor Sevilla, a marketing expert and singer; the SF School of Dance under Sol Fernandez for the ballet numbers; and the Iloilo Youth Orchestra headed by Melissa Exmundo, for the violins.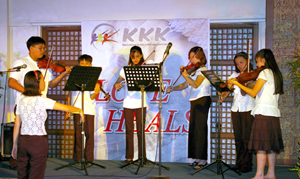 The Iloilo Youth Orchestra
Two recipients came with their parents. They were John Philip Java who has Acute Lymphocytic Leukemia and Regine Bonillo, who has Retinoblastoma.
KKK wishes to thank those who supported the show in one way or another. The sponsors were Beauty Essentials, Tatak Ilonggo, Mang Inasal, Yuhum Press and The News Today.
I'd like to thank my mom Rose, sisters Rosmar and Gemma, brother Bong and dear friends Myrnallyn, Alex and Ivan and colleagues Maricar and Astro, representing The News Today, who came to the show.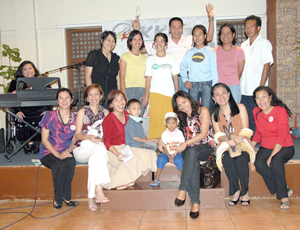 KKK Officers
KKK continues to accept donations and volunteers for its cause. For more information, visit www.iloilokanserkids.com or contact Dr. Ma. Socorro Martinez, president at 0917.3031.400.