BORACAY ISLAND—For 23 years he fought hard and held the line fighting Moro rebels in Mindanao.
He was wounded four times in battle and awarded six citations and medals including the Gold Cross, the third highest military award for gallantry in action.
An Ilonggo was among the four confirmed fatalities in Wednesday's deadly bombing in General Santos City in what stands as the worst bombing incident here.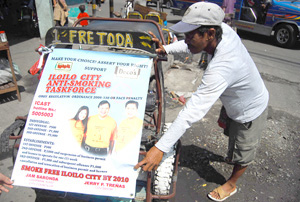 A.CHRIS FERNANDEZ
This city has started laying the ground works for full implementation of Regulation Ordinance No. 2006-150 otherwise known as "The Comprehensive Anti-Smoking Ordinance of Iloilo City."