Two platoons of Army troopers will take a break from operations and offensives in the mountains following a detail order from the Armed Forces of the Philippines (AFP) hierarchy.
People are expected to line up the major streets of the city as well as in the two judging areas to witness today's drum and lyre competition in both elementary and secondary level. Ten competing schools in the elementary level and another two from the secondary level will vie for the Glockenspiel contest.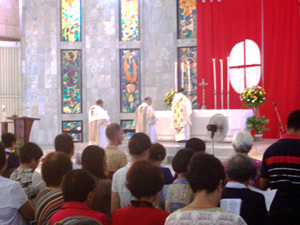 A.CHRIS FERNANDEZ
Hundreds of Ilonggo Catholic faithful on Wednesday flocked to the first Latin Mass held here in decades.
Around 700 parishioners of Mandurriao District here attended the Latin Mass, also known as Tridentine, held in time for the Feast of the Espousal of the Virgin Mary at the Mandurriao parish church.