Security preparations for the Dinagyang festival is already in place with the deployment of more than 600 personnel from the Philippine National Police (PNP) and the Armed Forces of the Philippines (AFP).
"The governor's speech was "empty." The threat to the Sangguniang Panlalawigan (SP) was not that intimidating as we would have expected."
Thus came the reaction from First District Board Member Mac Napulan.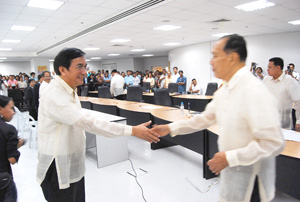 A.CHRIS FERNANDEZ
The city will not give in to the demands of the transport groups belonging to the Metro Iloilo Transport Federation (MITF) to suspend the implementation of traffic Ordinance 195 despite their threat to stage a strike starting January 24, two days before the highlights of the Dinagyang Festival.