Governors in Western Visayas assailed the Catholic Bishops Conference of the Philippines (CBCP) for saying that the country's leaders are showing "moral bankruptcy" amid the reported distribution of money to officials during a meeting with President Macapagal-Arroyo in Malacañang last week.
Just a few more days and it would be judgment day for the P350 million deal of the Iloilo Provincial Government's planned convention center. Or so at least in as far as the 9th Iloilo Sanggunian Panlalawigan (SP) is concerned.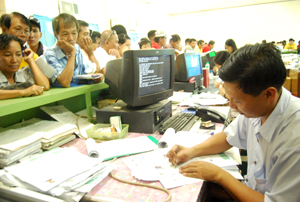 A. Chris Fernandez
The Dinagyang Festival continues to receive more invitations to perform both in domestic and foreign locales.
City tourism Benito Jimena said these invitations were the result of the all-out promotion the Iloilo Dinagyang Foundation, Incorporated (IDFI) has conducted during the last five years. The promotional efforts also resulted in garnering the Association of Tourism Officers in the Philippines' highest award for two consecutive years running.
Jimena said that invitations for performances next year and for the last three months of the year are pouring in. Even the Discovery Shores in Boracay he added, has written Mayor Jerry P. Treñas requesting for a Dinagyang tribe to perform during the opening of the Cornell Hotel Society Asia Pacific Regional Meeting on November 3rd.