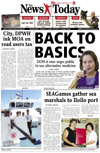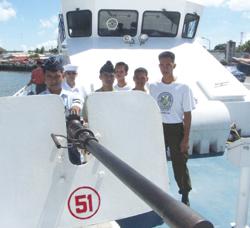 A. CHRIS FERNANDEZ
Philippine Coastguard's BRP Ilocos Norte: Ensuring security in Western Visayas waters during the SEAGames see related story
In this time of rising prices of almost anything including medicines, Dr. Lydia Depra-Ramos, regional director of Department of Health (DOH) Region 6, urged the public to use traditional and alternative medicines.
Iloilo and nearby Western Visayas provinces play host not only to delegates and officials of the Southeast Asian Games.
Soon the city government could already avail of its share in the road users tax (RUT) This, after the Sangguniang Panglungsod gave Mayor Jerry Treñas the authority to enter into a Memorandum of Agreement (MOA) with the Department of Public Works and Highways (DPWH).
The forthcoming year under the administration of Governor Niel Tupas, Sr. will see at least a million more in donations, a million more in subsidy to local government units (LGU), about a million still for office and equipment repair and maintenance and the P1 million still for gasoline, oil and lubricant expense.
Five mayors and one governor in Western Visayas were given recognition for their continued support to the programs of the Bureau of Fisheries and Aquatic and Resources (BFAR).
City Legal Office (CLO) chief Edgar Gil said they are ready to file the criminal and administrative charges against their colleague Atty. Reynaldo Sonalan however Mayor Jerry Treñas still has the last say.
Department of Labor and Employment (DOLE) Secretary Patricia Sto. Tomas issued Department Order No. 73-05, Series of 2005 or the Guidelines for the implementation of Policy and Program on Tuberculosis prevention and control in the workplace.
First he was tagged as "protector" of illegal fishers. Now he was to become the "financier" of a group of 70 locals arrested for illegal fishing in Mindoro.
Preparations are now in full swing for the holding of "Panubli-on" 2005 as some Small and Medium Enterprises (SMEs) that will join this trade fair had already left for Metro Manila on October 23, two days earlier than the scheduled setting up of booths which is on the 25th.