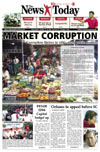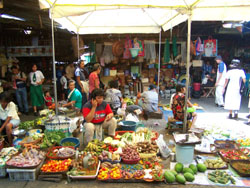 The city government is not earning from the operations of the seven markets in the city due to massive corruption. A. Chris Fernandez
The city government is not earning from the operations of the seven markets in the city due to massive corruption.
With the recent Court of Appeals decision favoring Barangay Captain Lorenzo "Boy" Castillano, Iloilo City Liga ng mga Barangay president Marietta Orleans is bent on fighting out her position with the Supreme Court (SC).
The Iloilo Provincial Government will work on an Executive Budget of over P856 million for next year, some P42 million more than this year's initial budget allocation.
The Iloilo Provincial Government enjoys a significant decrease in its electric bill with payment due to the Panay Electric Company (Peco) cut into half.
The members of the Consultative Commission will hold a consultative dialogue with multi-sectoral groups in Iloilo City, on Oct. 26, 2005 at the Amigo Terrace Hotel, 9:00 a.m.
Figures and statistics may be on the lower scale in as far as established target is concerned, yet for officials of the Department of Agrarian Reform (DAR) regional office here, the last quarter may bring positive results.
First it was "Iloilo, it's happening!" Then it was "Yes, Iloilo!" For 2006, the Iloilo Dinagyang Foundation thinks it should be "Iloilo Dinagyang: "The Only One".
The Visayas convention of the Philippine Society of Nutritionists-Dieticians (PSND), Inc. which will be held here on October 26-27, 2005 takes for its theme: "Ensuring Sustainable Food and Nutrition Security Through Effective Resource Management."
Products of inmates, probationeers, parolees and pardonees from their livelihood projects such as handicrafts, native products and others will be put on display in a bazaar to be held at the lobby of the Chief Justice Ramon Q. Avancena Hall of Justice in Bonifacio Drive of this city on October 24.
Department of Agriculture Secretary Domingo Panganiban expressed optimism that Western Visayas will continue to play a big role in the food production of the country as the region's agricultural sector produced farm goods reaching to a whooping P71 billion last year.
The Negros Rescue Federation (NRF) in the province of Negros Occidental gave a distinct honor to the whole of Western Visayas when they were adjudged as the most outstanding search and rescue group for three consecutive years.