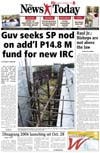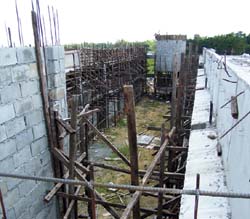 Photo taken during the September 26, 2005 ocular inspection made by Gov. Niel Tupas, Sr. on the ongoing construction of Iloilo Rehabilitation Center in Brgy. Nanga, Pototan, Iloilo.A. Chris Fernandez
Bent on having a new jail before the year ends, the Iloilo Provincial Government is putting in more funds for the continued construction of the Iloilo Rehabilitation Center (IRC) in Pototan, Iloilo.
Iloilo Representative Raul Gonzalez, Jr. echoed the statements issued by his father Justice Secretary Raul Gonzalez, Sr. on the dispersal of the protest rally led by some Catholic bishops and the country's prominent persons like former Vice President Teofisto Guingona Friday last week.
An order for the arrest of an alleged drug pusher is in the offing following his involvement in a controversial drug arrest in July. With no bail recommended, Cairoden Abdullah alias "Cairo" stand to be arrested in a drug complaint docketed as I.S. No. 1614-05.
A German consultant of the Visayan Sea project said that political will is needed to address the disturbed ecological system of the region.
Iloilo Rep. Raul Gonzalez, Jr. said he will donate P2 million from his Countrywide Development Fund (CDF) as additional fund for the construction of the new city slaughterhouse in Brgy. Tacas, Jaro.
The Iloilo Dinagyang Foundation Inc. (IDFI)and the city government of Iloilo are now getting ready for yet another grand celebration of Dinagyang Festival next year.
Some 300 families of Iloilo City identified to be in greater need of assistance got early Christmas presents from members of the Grains Retailers Confederation of the Philippines (GRECON) – Visayas.
The province of Iloilo will be the first partner province of the Botika ng Bayan (BnB) Program in the country.
The Iloilo Dinagyang was featured as a success story of partnership between a local government unit and a private organization, during the World Habitat Day Celebration in Butuan City, last October 12-14, 2005.
Excitement is building around a bold initiative to highlight the positive amidst all the negativity in the country today. Dungog Panay 2005 – a Mini-Conference and Festival –will be held at Cultural Center of WVSU Nov 12-13, 2005. Can examples of excellence stimulate positive social change?
No, not one from the police force of Ajuy or even its chief is on the take from illegal fishing operators.