Panaderia de Molo… a significant part of Iloilo's history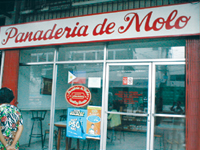 Panaderia de Molo is more than just a bakeshop. Its name is embedded in the history of Iloilo, making it a witness to some of the most important events in the Molo district. Dr. Kristine Sanson-Treñas, the fourth generation owner of Panaderia de Molo, tells the colorful story of this antediluvian bakeshop. In the later part of the 19th century, five spinsters put up Panaderia de Molo whose sole heir was Dr. Treñas' grandmother. "My great grandmothers might have started formulating things during their idle times in the afternoon," Dr. Kristine reveals the conception of the bakeshop. History would tell us that in the 1800's, the masons would use egg whites to cement the bricks of the walls of the churches they were building. So as not to waste the rest of the egg, women would make cookies out of them. When women gave birth to that idea, Panaderia de Molo was also born. Although we cannot deny the fact that most of what we see in the panaderia has a lot of Spanish flavor to them (with the recipes having been handed down by Spaniards to the women during the Spanish colonization) we can still consider these creations as somehow Ilonggo originals since it was the Ilonggas who molded, baked and made them popular. For something whose popularity retains for more than a century, it must really be very special, for even songs sometimes fade away with time.
Panaderia de Molo has three branches in Iloilo City. The original bakeshop used to be in the Sanson's ancestral house in Molo, Years ago, the family decided to move it to a street side area where it is more convenient for clients. The other two branches can be found in Jaro and Rizal St. fronting the University of Iloilo. Galletas is considered one of Panaderia de Molo's best sellers. It has the kind of taste that makes you want more and more of it.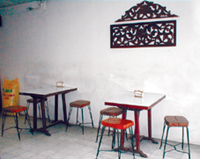 The clientele of Panaderia de Molo has reached a very surprising height. "I have a client with whom I have been making business with for the past three years. One day, she just called me up and ordered Galletas. She was from Manila and I right away sent her orders through mail, even if I did not know her personally. Believe it or not, we are still doing business together until now," Dr. Kristine Treñas says. The once mysterious client would put the Panderia de Molo goodies in her kids' lunch boxes as part of their baon; or would give them away as gifts. But that is only one of the amazing stories of the popular panaderia. We might never see our faces on internationally acclaimed network--the CNN, but a box of Panaderia de Molo was once flashed during a CNN special coverage about a foreign country. "It might not have been a very pretty sight because it was part of the trash, but still, we know people on that part of the world eat our products!, " Dr. Treñas says in a jest.
Panaderia de Molo is more than just a business. Dr. Treñas says the reason why they do not want to expand and put up branches all over the Philippines despite the encouragement of a lot of people is because they are afraid to lose the heart of Panaderia de Molo. It is something that already belongs to the history of Iloilo and it has a huge heart in it.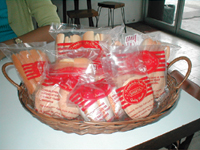 Panaderia de Molo has also worked wonders for the fourth generation owners. Dr. Treñas and her siblings say they have appreciated the value of the bakeshop more when little by little they realized what an important part of the history it has been. They would also be surprised when some of the most popular national artists would come to the old bakeshop and would be in awe of all the antiquated beams and equipment found in it. Dr. Treñas confesses, "There was a time when we were seeing them everyday and were taking those things for granted only to find out they have value to the world of art. Now we appreciate them more." The panaderia still apply the process of baking with the original equipment used in the old days. Every bite of a Panaderia de Molo product will take you back to a time in history when Dr. Jose Rizal would still visit the famous Molo Church.
E-mail the author at jinki_young@yahoo.com