Miss Dinagyang 2008
Click image to view a larger image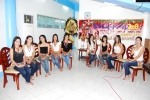 Candidates for the 2008 Miss Dinagyang search face the members of the Iloilo City Hall Press Corps for the judging of the Darling of the Press. From left, Yda Kay Torillo, Jashel Grafil, Sherry Lorraine Bermejo, Rita Guevarra, Dianne Reyes, Vena Ardales, April Dela Cruz, Kresha May Baban and Charlene Joan Casten. Not in photo is Chiela Mae Brazas.
Dinagyang Dolls
Click images to view a larger image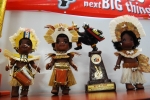 Dagoy dolls made by Sampaguita Gardens in Aklan will be sold to visitors during the upcoming Dinagyang Festival.