Clean up for Binirayan Festival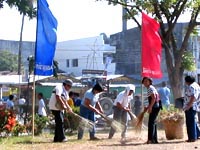 Employees of the Provincial Government prepares the EBJ Freedom Park for the forthcoming Binirayan Festival. EBJ Park will house most of the festival's major activities.
In a related development, April 15 was a busy day in the province of Antique. Business establishments, schools, national and provincial offices and the town people of San Jose all went out the streets for the clean up day.
The activity was in preparation for the forthcoming Binirayan Festival on April 27-29, 2005. Activities for the festivity will start on April 18. Local and foreign tourists are expected to flock in San Jose, Antique's capital town, to witness the activities of the Binirayan Festival.
Gov. Salvacion Z. Perez led the employees of the Provincial Government in cleaning the provincial capitol and the EBJ Freedom Park. This is believed to be the first time that almost all sectors cooperated in preparation for the provincial festival.
The Binirayan Foundation, Inc., the official event organizer, lauded the activity. With the people's support in its preparation, a much bigger participation is expected among the Antiqueños in the duration of the festival.