Lin-ay kang Antique 2005 candidates meet the press

The tweve lovely candidates in the 2005 Seach for Lin-ay kang Antique were presented to the media for the first time during the press presentation held last Saturday April 23 at the Binirayan Swimming Pool.
The press presentation was one of the activities slated for the exposure of the candidates, the others being the coastal clean-up, in-depth interview and talents contest.
During the press presentation the candidates' wit and character were tested through the challenging questions thrown by the media.
This year's Lin-ay kang Antique will have its final presentation and coronation on April 28 at the EBJ Freedom Park .
The Lin-ay kang Antique is a competitive search for an Antiqueña who would serve as the model for other women in Antique and who would serve as the province's ambassador of goodwill to Antiqueño communities around the world.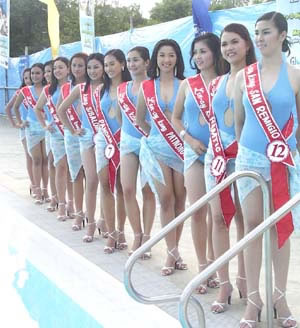 1. Kay Lorrelyn L. Lojera, Lin-ay kang Sebaste
2. Alice Grace M. Ledesma, Lin-ay kang Laua-an
3. Pearl Hyacinth Ann N. Demafiles, Lin-ay kang Culasi
4. Mary Ann R. Javier, Lin-ay kang Anini-y
5. Shayne Cory N. Laserna, Lin-ay kang Libertad
6. Lorena M. Abao-an, Lin-ay kang Sibalom
7. Samantha Lexie V. Saldajeno, Lin-ay kang Pandan
8. Rubie Rizza Estaris, Lin-ay kang San Jose
9. Caress Jane C. Lacson, Lin-ay kang Patnongon
10. Christy Maria P. Cajayon, Lin-ay kang Caluya
11. Guia May L. Melocoton, Lin-ay kang Hamtic
12. Grace Divine S. Petinglay, Lin-ay kang San Remigio