CCTV camera nails 2 robbery suspects; 3 still at large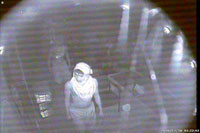 The two robbers entering Mr. Mejicas's office as captured on CCTV camera.
The video recording of closed circuit television (CCTV) cameras proved to be helpful in solving the robbery at Makinaugalingon Printing Press in Molo, Iloilo City recently.
In less than 24 hours police recovered the two laptops carted away by the
robbers and arrested two suspects Jeremy Soriano alias Botoy, 21, and Marvin Jamandre, 23.
Soriano of Zone 4, Boulevard, Molo was positively identified in the CCTV video as one of the two perpetrators while Jamandre of Brgy. Constancia, San Lorenzo, Guimaras was implicated as accomplice.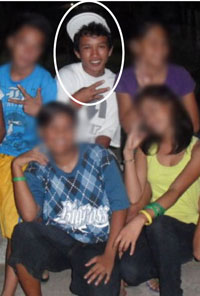 Photo shows at-large suspect Jeneil Boston (encircled) with friends.
Still at-large are Jeneil Boston of Brgy. West Habog-habog, Molo, the other
person seen in the CCTV video; Stephen Andama alias JR of Brgy. Constancia, San Lorenzo, Guimaras; and alias Esti also of Brgy. West Habog-habog, Molo.
Andama and alias Esti were identified by Jamandre as among their companions when they robbed Makinaugalingon Printing Press early morning of December 19.
Cases of robbery have been filed against the five suspects last Thursday, December 23.
Soriano and Jamandre are presently detained at the lock-up cell of Molo Police Station while the remaining three suspects Boston, Andama and alias Esti are still being pursued by authorities.
Rosendo Mejica II, owner and general manager of Makinaugalingon Printing Press, said in his complaint affidavit that they only discovered the robbery in the morning of December 19 when employee Mary May Pilla entered the office and discovered that their belongings were already scattered and the drawers on their tables ransacked.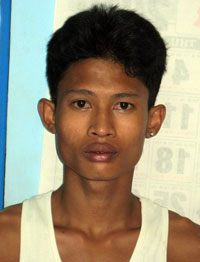 JEREMY SORIANO alias Botoy: Detained
Mejica said the robbers took US$500 from his wallet placed on his table; P15,000 cash from his drawer; P5,000 cash placed inside the drawer of employee
Lilibeth Lorio; Toshiba laptop computer valued at P58,000; and Asus netbook computer worth P20,000.
Mejica said it was fortunate that he has installed several active CCTV cameras at the premises of Makinaugalingon Press which were able to capture the whole incident.
Two persons were seen on the CCTV video roaming around the premises, opening the drawers and taking away valuable items which they placed inside a sack.
Officials of Brgy. West Habog-habog identified the two as Soriano and Boston.
Operatives of Molo Police Station conducted hot pursuit against the suspects and around 11:45 p.m. of December 19, an informant who refused to identify himself surfaced and turned over two units of laptop computer, which were reported by Mejica as missing.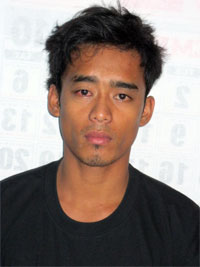 MARVIN JAMANDRE: Detained
The informant told the police that Boston, Soriano, Jamandre, Andama, and alias Esti sold the said laptops to him.
Around 1:20 a.m. of December 20, Molo police arrested Soriano who admitted his participation in the robbery. Soriano also identified Boston, Jamandre, Andama, and alias Esti as his cohorts.
Nine hours later, Jamandre surfaced and surrendered to Molo Police Station.
It was learned that both Boston and Soriano have records of detention at Balay Dalayunan, a center for juvenile offenders, when they were still minors.
Officials of Brgy. West Habog-habog and several witnesses also confirmed the five suspects are responsible for several robbery and "akyat bahay" cases in Brgy. West Habog-habog and nearby barangays.
Mejica thanked the Molo Police Station for its swift action which resulted to the immediate resolution of the case.
Members of the Molo Police Station who helped in the successful follow-up and pursuit operation were Senior Insp. Reuben Siason, station commander; Insp. Nestor Santacera, deputy station commander; SPO1 Rene Mercado, chief, Investigation Section; SPO1 Greg Matutino, investigator; PO3 Rico Alolor, chief, Intelligence Section; PO2 Christopher Leonor, PO1 Ryan Salay and PO1 Marciano Espinosa, intelligence operatives; PO3 June Esporas and PO2 Jonathan Celeste, patrol crew.
Mejica also thanked the members of the Scene of the Crime Operations from Police Regional Office 6 led by Chief Insp. Hilarion Roga, team eader, and his assistant, Senior Insp. Herbert Tunac.*