The Iloilo City Police Office has reiterated its reminder to Ilonggos to be vigilant against petty street criminals this Christmas season.
Traffic condition in Iloilo City has significantly improved with the strict enforcement of the anti-jaywalking ordinance, according to the City Hall.
Tickets for the Dinagyang Festival 2011 set January 22 and 23 will be available starting December 20, its organizers said.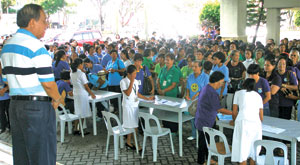 CAPITOL PIO

Gov. Arthur Defensor yesterday turned over a check of P500,000 to the Southern Iloilo Coast Resource Management Council (SICRMC) Inc., an alliance of southern Iloilo towns for the protection of their marine resources.
The amount serves as the provincial government's initial assistance to the council, underscoring Defensor's commitment to protect and rehabilitate the coastal waters of southern Iloilo.