The takeover of Senior Supt. Marietto Valerio as acting city police director will pave the way for a new anti-crime campaign of the Iloilo City Police Office, said Chief Supt. Cipriano Querol Jr., police regional director, yesterday.
Chief Supt. Cipriano Querol Jr., director of Police Regional Office 6, said yesterday his office continues to monitor the policemen believed to be involved in the drug protection racket.
He said the PRO 6 is still gathering evidence so they could file charges against these policemen, whose names and profiles he refused to divulge.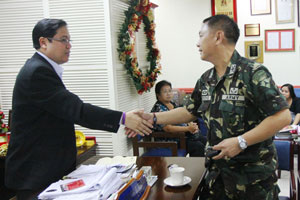 LEO SOLINAP
Ilonggo business tycoon Edgar "Injap" Sia II, head of Injap Foundation, Inc. and Senator Ferdinand "Bongbong" Marcos Jr. will lead the guests in the groundbreaking rites of the P25-million three-storey Iloilo City Community College at 11 a.m. tomorrow
A body of a man in his 30's was found at around 1 a.m. Sunday behind the Iloilo Provincial Capitol in Brgy. President Roxas, City Proper, Iloilo City.