Apparently dissatisfied with the performance of Iloilo City Police Office director, Senior Supt. Dennis Basngi, Mayor Jed Patrick Mabilog has started scouting for a new city police chief.
"We have given him enough time," the mayor told reporters yesterday.
The series of murder incidents in the city and other crimes in the past months have already caused alarm among the Ilonggos, particularly the business sector, prompting Mabilog to act.
Iloilo City Rep. Jerry Treñas yesterday told newly elected barangay captains in the city to forget politics and unite their constituents to solve the problems in their respective communities.
Treñas made the call during the mass oath-taking rites for barangay officials held at the Jaro gym.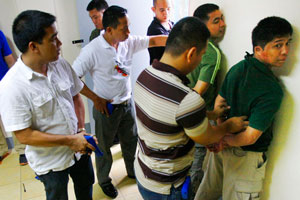 Leo Solinap
A vendor of pornographic DVDs was arrested yesterday morning by the team of Iloilo City Task Force on Internet and Gaming Center, Anti-piracy and Pornography (TF-IGCAPP) during a buy-bust operation at Corner Valeria-Ledesma Streets.
The Iloilo City Police Office has deployed a team to the premises of the Metro Iloilo Water District (MIWD) to defuse a possible tension between the management led by general manager Le Jayme Jalbuena and the directors who were earlier ousted by the Local Water Utilities Administration.