The Regional Trial Court Branch 23 has issued a 20-day temporary restraining order on the interim Board of Directors of the Metro Iloilo Water District, directing them to cease and desist from exercising their duties and functions as a board starting yesterday.
Iloilo First District Rep. Janette Garin said she is disappointed over the statement of Pope Benedict XVI on condom use.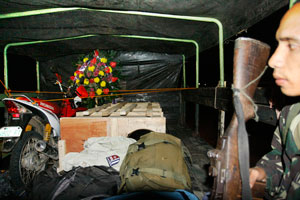 Leo Solinap
Iloilo Gov. Arthur Defensor Sr. said he believes that the provincial government should be involved in the affairs of the Metro Iloilo Water District, but he is questioning why the MIWD thought of involving the Capitol only now.