Just as the Iloilo provincial government under Gov. Arthur Defensor Sr. disclosed that the Truth Commission is investigating the alleged anomalous transactions of the previous administration, an aide of former Gov. Niel Tupas Sr. said Tupas is not to blame for the supposed questionable fund releases during his term.
The four policemen of Guimbal Police Station who informed the Philippine Drug Enforcement Agency 6 on the P7-million cocaine possessed by a drug dealer in the neighboring Miagao town have been receiving death threats.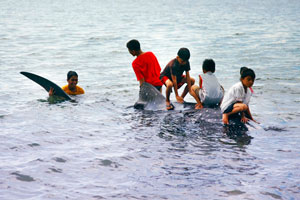 A councilman of Brgy. Rizal Pala-Pala in Iloilo City was shot to death by a fish vendor Saturday night at the Iloilo City Terminal Market.
Efren Tuvilla, 58, who also heads the market's fish vendors' association, sustained two wounds on his nape.
He was brought to Iloilo Doctors' Hospital where he died an hour later.