Bakhaw drug pushers relocate to neighboring villages–PDEA 6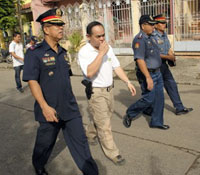 Chief Supt. Cipriano Querol Jr., police regional director, (left) and PDEA 6 chief Paul Ledesma (2nd from left) walk along a street in Brgy. Bakhaw where they held a dialogue with village officials and residents on the illegal drug problem in the area. - PO2 RYAN ORLEANS
Drug pushers in Iloilo City's drug haven Brgy. Bakhaw in Mandurriao have started to relocate their operations in other villages after the establishment of Task Force Bakhaw, according to the Philippine Drug Enforcement Agency 6.
PDEA-6 officer-in-charge Paul Ledesma said his men are closely monitoring
the illegal drug activities in the neighboring barangays of Simon Ledesma, Boulevard, Habog-habog, Tanza Baybay, and Desamparados.
Some barangays in the waterfront area particularly Monica and Veterans are also probable areas where drug pushers have shifted their operations, he said.
"The creation of this task force would deter the drug trafficking in (Bakhaw) but some may just relocate their operations," Ledesma said.
Following the operation of Task Force Bakhaw over the weekend, the Police Regional Office 6 is also planning to form of two other task forces that will focus on the illegal drug operations in barangays Malipayon and Tanza Esperanza, both in City Proper.
As of October, PDEA 6 record shows that 74 drug personalities have been arrested in 49 different operations in Iloilo City.
Of the number, 44 personalities are under the agency's watchlist. Ninety-four cases have been filed in courts.
Chief Supt. Cipriano Querol Jr., police regional director, had earlier urged
village chiefs of Iloilo City barangays seriously affected by illegal drugs to help authorities in the anti-illegal campaign.
Querol said he is also asking the support of these communities in the implementation of the Barangay Peacekeeping Action Team.
However, Querol has admitted it is difficult for the police to fully established the BPAT in these areas, particularly Malipayon and Bakhaw, because the new heads of these villages are related to two suspected drug lords in Iloilo City.*