LWUA appoints interim board, eases out 5 directors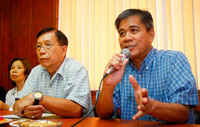 Atty. Romeo Gerochi, a member of the MIWD interim board, speaks to reporters, with general manager Le Jayme Jalbuena and fellow director Jessica Salas (left).
The Local Water Utilities Administration (LWUA) has flexed its muscles over the Metro Iloilo Water District controversy by appointing an interim Board of Directors effective November 15, displacing five directors whose terms have yet to expire.
MIWD general manager Le Jayme Jalbuena said in a press conference yesterday, the management is recognizing the authority of the LWUA in declaring the appointments of the displaced directors null and void and in appointing an interim board until Iloilo Gov. Arthur Defensor Sr. names the board's official members.
The LWUA had earlier declared it is already the governor, and no longer the Iloilo City mayor, who is the rightful appointing authority of the MIWD board, as provided in Presidential Degree 198.
According to LWUA, MIWD records show Iloilo City was not able to garner more than 75 percent of the total service connection in the district area of coverage that the mayor, in this case Mayor Jed Patrick Mabilog, lost his authority to appoint the MIWD directors.
The interim board is composed of Emmanuel Malicdem, chairman; Hermilo Balucan, vice chairman; and Enrique Gita, Atty. Romeo Gerochi and Jessica Salas, as members.
They replaced Bernadette Castellano and Adrian Moncada, whose terms will expire on December 31 this year; Celso Javelosa, whose appointment is until 2012; Sergio Gonzalez and Danilo Encarnacion, whose terms will end in 2014 yet.
In a press briefing at the MIWD board room yesterday afternoon, Jalbuena said Defensor has until December 15 to exercise his right as the appointing authority.
However, if the governor refuses to exercise his authority, the LWUA will take charge, he said.
"We are hoping a smooth relationship with the interim (board) and we are
assured that the problem on lack of water supply in metro Iloilo will be addressed (as soon as) possible," he said.
Two Deep Wells
On Monday, the interim board conducted their first board meeting with corporate secretary Atty. Rodolfo Legaspi, who replaced Atty. Hans Sayno.
The board approved the proposal to immediately construct two deep wells – one in Oton and another in San Miguel.
Jalbuena said the construction of two deep wells will augment water supply in metro Iloilo by 2,000 cubic meters per day.
Commotion
While the press conference was ongoing, a commotion took place outside when security guards prevented the displaced directors, including Encarnacion, from entering the MIWD building.
Encarnacion said they will file charges against the LWUA and MIWD because they were not accorded due process.
Policemen from the Iloilo City Police Office were also seen patrolling the MIWD premises while the press conference was being conducted.*