The Local Water Utilities Administration (LWUA) has flexed its muscles over the Metro Iloilo Water District controversy by appointing an interim Board of Directors effective November 15, displacing five directors whose terms have yet to expire.
Settlers along the Iloilo River banks have only until the end of the year to leave their houses or else, their structures will be removed.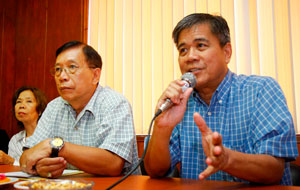 LEO SOLINAP
Narcotics agents seized about a kilo of high-grade cocaine worth P7 million, by far the biggest single drug haul in Western Visayas, following a buy-bust operation in Miag-ao town yesterday morning.