A new chapter unfolds for The News Today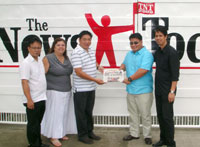 The News Today Publishing chairman Rosendo Mejica II (3rd from left) leads the symbolic hand-over of the newspaper to businessman Rommel Ynion (2nd from right), in the presence of TNT president Christopher Montero (left) and corporate secretary Marichel Magalona, and soon to be executive editor Junep Ocampo (right).
The 10-year-old The News Today newspaper is entering a new chapter.
Starting January 1, 2011, the newspaper will have a new management, led by a returning Iloilo-born journalist-turned businessman.
Company owner Rosendo Mejica revealed last week that the paper has been acquired by the Maxposure Media Group of businessman Rommel Ynion, a native of Iloilo who practiced journalism in Manila more than 10 years ago.
"We have decided to sell the paper to this group which will take it to the next level," said Mejica. "We believe that Rommel's group is capable of making The News Today the number one daily not only in Iloilo City but the whole Western Visayas."
Mejica did not reveal how much he and his partners got in the sale, but he intimated that he sold the paper at a good price.
Ynion, for his part, promised more exciting days ahead for The News Today and its present staff.
"We will make The News Today the most credible newspaper in the region. It will have more pages, more interesting sections and will carry investigative articles. But unlike other newspapers in the province, we will be a very responsible newspaper," he said.
Ynion is an Iloilo-born businessman who once worked as a journalist for Philippine Star in Manila. He started as a humble proofreader for the great Max Soliven, an experience he considers his "boot camp" in journalism. His last position at Philippine Star was shipping editor. He left the paper in 2001 to go into business. He became a media consultant of top business leaders and he built and sold houses on the side. Aside from Maxposure, which engages in public relations and advertising work, Ynion also owns a construction company (Solid R One), a security agency (Code One), a chain of restaurants (Stavros), a garbage-hauling firm, a scrap yard and a hotel.
His hotel in Iloilo, the old Royal Palms in Fort San Pedro, is undergoing renovation and will soon be re-branded as Bali Suites. It will eventually house the offices of The News Today come February 2011.
Ynion believes it is a great time for him to return to his first love – journalism – and the land of his birth. He says the people of Iloilo City and the entire Western Visayas deserve a better newspaper and he intends to make The News Today that newspaper.
"Our people are very intelligent and would know a good newspaper when they see one. I will lead this newspaper to become number one in Iloilo. Rest assured that with the calibre of talents that we will have in The News Today, it will not take me 10 years to make the paper number one. To paraphrase Manny Pacquiao, you just watch and enjoy the fight," he said.
At present, The News Today is a close second in the ranking of Iloilo-based newspapers, based on a recent survey of newspaper dealers. The same survey revealed that readers consider The News Today more credible than its rivals.
Mejica and its other previous owners only laughed off reports that the paper is "unknown and losing," saying those who were saying such things were only being threatened by the potential The News Today.
Aside from The News Today, Ynion also acquired the Mezzo magazine which he plans to relaunch as the ultimate lifestyle magazine outside of Metro Manila. The magazine is already number one in Iloilo but Ynion sees enormous promise in it to become the most dominant glossy publication in the Visayas and Mindanao.*