PEDC to start distributing power supply in November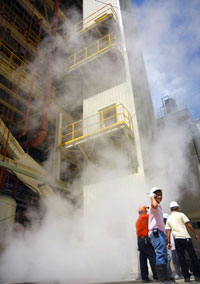 Workers of the coal-fired power plant of the Panay Energy Development Corp. in La Paz, Iloilo City check the steam coming out of the vent during the re-testing last Friday.
After conducting a re-test of the first boiler unit of its 164-megawatt coal-fired power plant in Iloilo City that yielded no foul odor, the Panay Energy Development Corp. is proceeding with the next steps that will eventually lead to the commercial operation of the power facility.
Adrian Moncada, assistant vice president of Global Business Power Corp., parent firm of PEDC, said they will conduct the turbine testing next.
The PEDC will also do a pre-commercial operation to assess the impact of the system when electricity supply would be transmitted to the power distributors, he said.
Next month, Moncada said the plant could already distribute power intermittently or about 35 percent of the load of the plant's 82-MW first boiler unit, which has a net load of 72 MW.
By December, the load could be increased to its full capacity, he said.
Moncada, however, said the Energy Regulatory Commission will still conduct a hearing on the provisional rate application of the PEDC.
Lemuel Fernandez, GBPC public relations consultant, said he hopes the "successful re-testing" of the coal-fired power plant will put to rest the issue that it emitted foul odor.
He also debunked reports that PEDC did not provide financial assistance to those who were hospitalized or treated after inhaling foul odor, an incident which coincided with the plant's test firing and steam blowing on September 11 to 16.
"We did give. We helped them in their medical needs," he said, adding that those who received financial aid are those whose claims were validated.
Valentin Talabero, Provincial Environment and Resources Office chief, said that based on their experience during the re-testing on October 14 and 15, the bad odor could not be linked to the plant.
Talabero, also presiding officer of the Multipartite Monitoring Team, said the retesting was intended to validate if the foul odor last month came from the plant because no concrete evidence was found regarding its source.
The MMT also commissioned an independent firm that conducted monitoring of ambient air quality in eight different areas in six barangays across La Paz district.
The second test-firing, which started 10 p.m. of Thursday and ended Friday noon, followed the procedures of the first test-firing, according to the PEDC.
Diesel fuel was also used to fire up the boiler that produced the steam.
Government officials, including Iloilo City Mayor Jed Patrick Mabilog, Gov. Arthur Defensor, city councilors, and barangay officials from La Paz district came to witness the re-testing procedures.*