BFP calls for vigilance vs fire during brownouts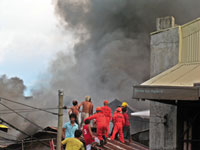 Firefighters climb the rooftops of houses in Brgy. Rizal Ibarra, City Proper to contain the blaze that hit the area Tuesday afternoon.
The Bureau of Fire Protection in Iloilo City has called on Ilonggos to increase vigilance on circumstances that may cause fire especially during brownouts.
On Tuesday, two fire incidents occurred in the city in a span of four hours in areas that were experiencing power outages.
The first, in the thickly populated Brgy. Rizal Ibarra, City Proper, where three preschoolers died, and later in Mohon, Arevalo district.
City Fire Marshal Rodolfo Denaga said they are looking at the two possible causes – short circuit of electrical wiring and unattended lighted candle.
"That's why, they should be vigilant on the things that might trigger a fire," he said.
As a precaution, Denaga has proposed the conduct of fire safety seminars in villages.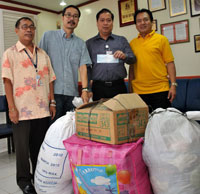 Iloilo City Mayor Jed Patrick Mabilog receives a P30,000 check and sacks of used clothing and foodstuff as assistance for the fire victims of Brgy. Rizal-Ibarra from the Fil-Chinese Chamber of Commerce and Industry-Panay Chapter represented by officials Peter Co and Francis Sio.
He also advised the public to employ good housekeeping.
"We should always clean our house and get rid of garbage and clutters," he said.
Denaga stressed the importance of electrical safety. "They should not use jumpers or tampered electrical fuse."
He also cautioned residents of the proper storage of flammable materials like gas and cooking oil.
"These liquids must be a safe distance away from where the cooking happens or the area where there are flames," he said.
Denaga said it is important to check and unplug electrical appliances before going to sleep and before leaving the house.
As for the use of candles, he said it must have a ceramic or steel holder and must be placed away from curtains.
Valves of liquid petroleum gas must also be closed after cooking.
Moreover, Denaga appealed to village officials, especially in areas that have many informal settlers, to give the BFP an opportunity to conduct fire precautionary lectures and seminars.
"We also advise them to have their own fire volunteer brigade, which will serve as their first line of defense," he said.
The fire brigade will enable residents to designate responsible persons to take care of calling the BFP if a fire will break out, the fire fighting operation, rescue, and traffic.
On Tuesday afternoon, the fire at Brgy. Rizal Ibarra left some 50 houses destroyed and damaged.
During the mopping out operation, the charred bodies of cousins and playmates Kyle Cotangco, John Raxielles Ledesma, and Roxy Lyn Ledesma, all four years old, were found inside the comfort room at the upper floor of Councilman Roque Española's residence.
One of the fatalities was Española's grandchild.
The fire, believed to have started from Española's house, was reported to the BFP at 3:12 p.m.
The fire spread quickly as most of the houses in the area were made of wood and light materials. Fire trucks also failed to penetrate the inner portion of the village because of narrow passageways.
Records of the City Social Welfare and Development Office show there were 53 razed houses and one damaged.
The Manuel L. Quezon Elementary School, Bonifacio Elementary School, and Rizal Elementary School were designated as evacuation areas for the fire victims.
At 7:15 p.m. on Tuesday, another fire occurred at a two-storey structure, owned by Kate de Asis and rented by Marissa Galanto, in Brgy. Mohon, Arevalo.
An unattended lighted candle was believed to have caused the fire.*