The Police Regional Office 6 through its various units all over Western Visayas has established 243 checkpoint areas to ensure honest, orderly and peaceful elections this October.
The high number of arrests of traffic violators all over the region could be blamed on the lack of personnel and resources of the Land Transportation Office 6, an official said.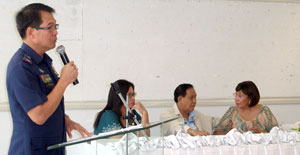 CAPITOL PIO

Mayors in Iloilo province and their respective police chiefs gathered at the Iloilo Provincial Capitol conference room yesterday for a seminar-workshop on crisis management.