Army to militant groups: Censure abuses of NPA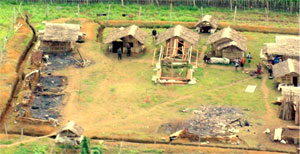 TORCHED. A group of New People's Army rebels set on fire several bunkhouses of the Cafgu Active Auxiliary detachment of the Philippine Army in the far-flung Bug-ang village in Toboso, Negros Occidental two weeks ago.
-3RD CMOB
Maj. John Andrada, commander of the 3rd Civil Military Operations Battalion, has challenged militant groups to look into the abuses of members of the New People's Army.
"As they claim that they are for the people, I hope that they would also probe and do corresponding actions on the abuses being done to our soldiers," he said.
Andrada made the statement after the recent killing of an Army detachment commander in Negros Occidental.
Two weeks ago, Staff Sgt. Efraim Bagonoc, head of the Cafgu Active Auxiliary unit in Bug-ang village, Toboso town was accosted and captured by six communist rebels, pretending to be members of the PNP-Criminal Investigation and Detection Group, on board a red van.
Bagonoc was taken back to his detachment by the men in the van and was held hostage in front of his camp to pressure his men to surrender.
The rebels then ransacked the bunkhouses and held the four CAA troopers along with Bagonoc's daughter Efrailyn, 14, who was visiting her father.
Andrada said the girl witnessed how her father was executed by the rebels.
The NPA rebels then poured gasoline on most of the bunkhouses and set the detachment on fire. They also carted away two dozen firearms.
"Surely, what the communist terrorists did was more than enough for us to say that human rights was clearly violated," Andrada said.
Yet despite the severity of what happened, militant groups like Karapatan and Bagong Alyansang Makabayan have remained tight-lipped on the incident, he added.
"This time around, I hope that they would show the people that they are there for everybody and not just to be critical of the government and our soldiers," Andrada said.*