Ilonggos go out to destroy mosquito habitats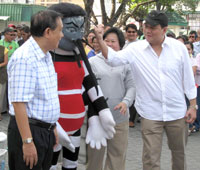 Provincial Administrator Raul Banias (right) raises a fist against the Aedes Aegypti mascot during the launching of the provincewide clean-up drive against dengue led by Gov. Arthur Defensor Sr. yesterday.
An estimated 100,000 Ilonggos from all over the province yesterday joined the massive clean-up to destroy the breeding places of dengue-carrying mosquitoes in their respective communities.
The event dubbed "People Power Kontra Dengue Day," spearheaded by the Iloilo Provincial Government with assistance from the League of Municipalities of the Philippines-Iloilo Chapter, was participated by various sectors including the academe, non-government organizations, and civic groups.
Iloilo is one of the provinces in Western Visayas which has the highest number of dengue cases, with 2,915 patients and 15 fatalities.
Gov. Arthur Defensor led the ceremonial kick-off in front of the Capitol where officials demonstrated ways to destroy mosquito breeding places.
Defensor said yesterday's campaign against dengue is a wake up call for the Ilonggos to always maintain and promote cleanliness in their households and surroundings.
"The most important thing is that we should do the clean-up everyday, not only in times of dengue outbreak," the governor said.
Provincial government employees were assigned to clean various areas around the Capitol building and other places in Iloilo City.
Defensor allowed the employees, except those performing important functions, to go home in the afternoon so that they could do the clean-up activities in their homes.
In the municipalities, town officials led their constituents in the clean-up activities. High school students also cleaned their school premises.
Dr. Patricia Grace Trabado, provincial health officer, said dengue cases in Iloilo province are slowly decreasing but the public should not be complacent.
Clean-up should be sustained daily or as often as possible so that dengue-carrying mosquitoes can be prevented from multiplying, Trabado said.
The Provincial Health Office recommended the following measures to destroy possible breeding places of mosquitoes: a) "Kaya, Kulob, Tampok," b) Open-up and expose secluded and dark areas, c) Shake all curtains and drapes, d) Drain and remove all stagnant waters, e) Clean and replace water in collecting containers, vases, etc., f) Clean all gutters and drainages of clogged materials, g) Trim dense shrubs, bushes, grasses, and other plants, h) observe proper waste disposal.*