Iloilo province, city join hands in massive clean-up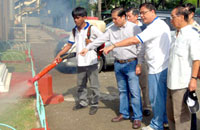 Mayor Jed Patrick Mabilog and Chinese Filipino Business Club Director Richard Alviar observe a fogging operation at the Iloilo City Central Elementary School, with businessmen Charlie Ho, Emilio Cua Locsin, Francis Sio and Oscar Chua.
The Iloilo City and Provincial Government are joining hands in the fight against dengue in today's "People Power Kontra Dengue" clean-up to eliminate breeding areas of deadly mosquitoes.
Gov. Arthur Defensor Sr. initiated the activity after the province was placed under the state of calamity because of its high dengue cases.
Dengue cases in the province already reached 3,188 with 18 deaths, based on the latest Provincial Health Office records.
Dengue fever is transmitted by day-biting Aedes egypti and Aedes albopictus mosquitoes that breed in clear, stagnant waters.
Iloilo City Mayor Jed Patrick Mabilog, for his part, committed to send a group of city employees to do street cleaning from 8 a.m. to noon.
Sirens and ringing of church bells will signal the start of the clean-up.
In Iloilo City, 425 cases with 13 deaths have been recorded from January to August 20 this year. La Paz district has the most number of cases, at 110.
Last week, the City Council approved P2 million pesos calamity fund for its anti-dengue campaign.
Best Tool
Defensor said he believes the involvement of the public is one best tool to curb the dreaded disease.
He called on government employees, barangay officials, health workers, and students to participate in the event.
The governor advised participating groups to wear working clothes and protective gears that could protect them against mosquito bites while working.
Also in the city, Mabilog led the pronouncement of multi-sectoral commitments and affirmation of plan of action from various sectors for a "coordinated, sustained and aggressive tactical clean-up campaign in all 180 villages."
The clean-up, which will last for four months from August 28 to December 18, will prioritize villages with significantly high number of dengue cases.
Mabilog has also designated every Saturday a citywide clean-up day and all village councils have been required to submit updates and monitoring report to the City Health Office and City Environment and Natural Resources Office.*MGC